Why should you hire Dave Mancini as your MC/DJ?
"Dave did such an amazing job at our wedding. He was the DJ/MC/HOST and I couldn't have asked for better!! Our guests had a blast and he had us up dancing all night!! I would recommend Dave to everyone!!!"
– Jennifer & Matt Landsberger – Castaic, CA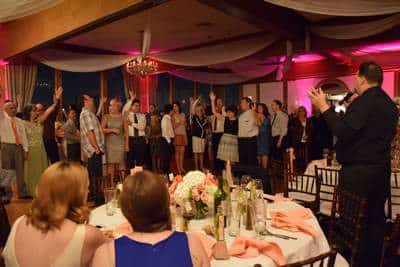 "He was super-responsive and listened to us every step of the way. He obviously cared a lot about making our wedding really special."
– Adri & Royce Dieckmann – Granada Hills, CA
"He totally tailored his service to our needs. He let us know that he could perform whatever role we needed: as little as just playing music and as much as running the whole reception."
– Marie & Donald Beckerman – San Pedro, CA
"Dave literally, not figuratively, LITERALLY, got every one of our 300+ guests partying on the dance floor before they realized what was happening. There were 70-year-old uncles and aunts dancing on chairs, no joke."
– Rhea & Neil Allen – Santa Ana, CA
"His prices are affordable especially with what you get. ALL OUR GUESTS are still talking about Dave and what a wonderful job he did. Hands down THE BEST MONEY we ever spent."
– Briana & Zachary Sax – Thousand Oaks, CA
Still not sure? Click here to see more.
Ready to get your wedding party started? Call or email Dave Mancini For Availability and to discuss your wedding. 661-510-2387
Services and Prices
My services include: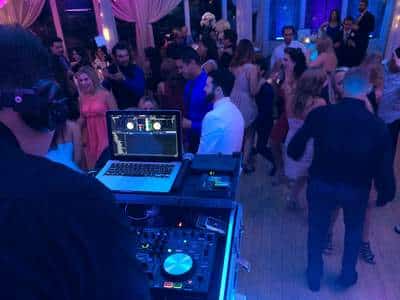 A professional and personalized MC/DJ (Dave Mancini will be your performer and will coordinate your reception timeline and formalities.)
A sound system customized to your venue and guest count. (For the ceremony, cocktail hour, and reception as needed.)
Color changing, wireless, LED up-lighting that looks amazing both indoors and outdoors.
My prices range from $1500-$2800, with my most popular packages falling between $1800-$2200.
For the most accurate price quote for your wedding, please be as detailed as possible when you fill out my contact form, or simply call/text me for the fastest response. 661-510-2387